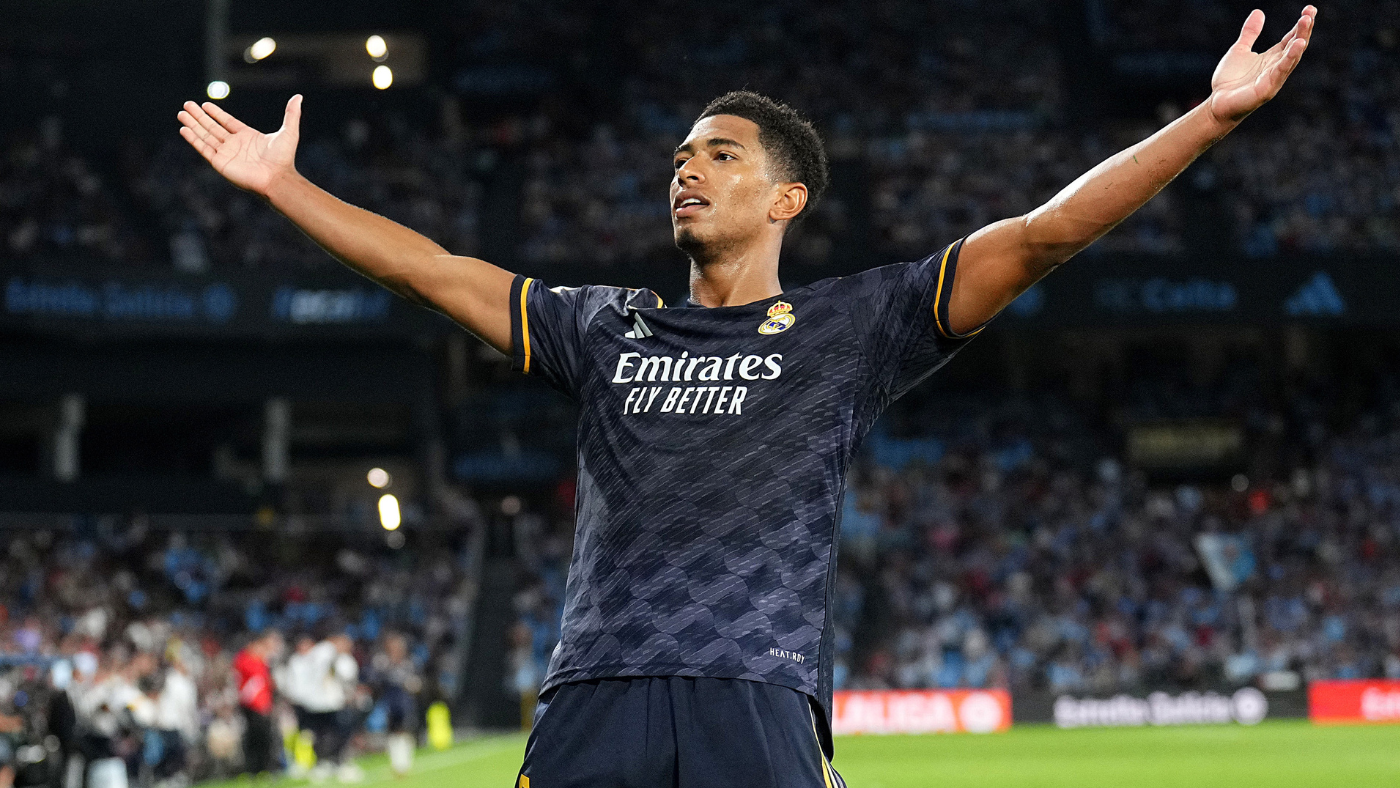 And we're back! A mere 110 days after Manchester City reached the promised land in Istanbul, the road to Wembley begins with the kick off of the Champions League group stage (as always you can find every minute of every game only on Paramount+). Before every game week we'll be looking at five players to play close attention to in the upcoming fixtures or indeed in the competition as a whole. Here's our first quintet:
Please check the opt-in box to acknowledge that you would like to subscribe.
Thanks for signing up!

Keep an eye on your inbox.

Sorry!

There was an error processing your subscription.

1. Bukayo Saka,
Arsenal
In spite of their late spring drop off, Arsenal had a pretty convincing case to make that they were statistically by far the second best team in England last season, and the early evidence of this term is that nothing has changed. Such teams tend to enter the Champions League as one of the favorites to win it all, no wonder when the riches of the Premier League give them access to squads of such depth and talent as to be the envy of all, bar a handful of clubs on the continent. And yet does it matter at all that their players, even the very best, are so untested at this level?
When Arsenal last played in Europe's top tier, an all too familiar 5-1 loss to Bayern Munich in March 2017, Saka, arguably their best player, had not even progressed to the Gunners' Under-18 side. Only one player with a Champions League appearance to his name remains in the squad and it is fair to assume that Mohamed Elneny's experience in this competition will be applied off the pitch rather than on it. You have to go back to 2010 for the last time Arsenal won a Champions League knockout tie, long before Mikel Arteta joined the club… as a player.
Arsenal have players with experience at the sharp ends of the Champions League, most notably Gabriel Jesus, Oleksandr Zinchenko and the man who snatched a European title from them in 2021, Kai Havertz. Does it matter then that there is so little institutional memory of success in this competition? Perhaps not, though Manchester City's early travails when they entered this competition does suggest that there is real value to be found in collective experience at Europe's cutting edge. Between that and the nagging question over how Arteta manages two-legged ties — in the Europa League he has only beaten Slavia Prague, Benfica and Olympiacos while being eliminated by the latter, Sporting and Villarreal — there are valid questions about how effectively this club will navigate the competition.
Set against that is the massive weight of talent exemplified by Saka, a forward who at just 22 years of age ranks among the best in the world. He has dominated games against the likes of Manchester United and Liverpool, ending last season ranked in at least the Premier League's top 20 players in almost every major offensive metric, including expected goals (xG), expected assists (xA), goals, assists, shots, chances created, take-ons, progressive carries and passes in the attacking third. Even at the start of a season that has seemed a little underwhelming by his standards, he has two goals and an assist from his first four league games, matching where he ranked fourth for xA and 10th for xG.
This competition should be the moment Saka and Arsenal affirm their status as among the very best in the continent. A favorable group stage draw means they should find themselves well-placed in the spring, from there a team with their talent should see no limits to what they can achieve. Does it matter that they have never done it before? We'll find out over the coming months.
Don't miss CBS Sports Golazo Network's Morning Footy, now in podcast form! Our crew brings you all the news, views, highlights and laughs you need to follow the Beautiful Game in every corner of the globe, every Monday-Friday all year long.
2.
Christian Pulisic

, AC Milan

One of the 14 senior players to make the exodus from Chelsea last season, Christian Pulisic's move to Italy seemed so long overdue that it was fair to wonder whether he had atrophied at Stamford Bridge. The 24-year-old had showed flashes of promise — truly the streets will never forget lockdown Pulisic — but complicated relations with Thomas Tuchel and Frank Lampard, a string of new signings in his best positions and, above all, nagging injuries at inopportune moments made one wonder if this was it for the America's brightest star.

The early indications in Serie A suggest that is very much not the case. Even before the international break he had hit the ground running, scoring on his debut away to Bologna before crowning his San Siro bow with a goal against Torino. Even better than the goals might be this statistic: three games, three starts. That alone is one shy of his best run in his final two years at Stamford Bridge. Even when Pulisic did get a few games in a row at Chelsea, they were rarely, if ever, in the same position, almost certainly not with settled personnel around him.

Stefano Pioli immediately slotted Pulisic into a right wing position where he is surrounded by players who know their roles. Behind him Davide Calabria has over 200 appearances in red and black, Olivier Giroud developed an exceptional relationship with the American (as he does with so many forwards) when they played together at Chelsea, while across the pitch Theo Hernandez and Rafael Leao are going to be Milan's chief avenue for ball progression. That allows Milan to exploit the skills that Pulisic developed during his time at Chelsea, above all his ability to snaffle up shots in dangerous areas. A player that arrived in England as something of a carrier and creator (which you still see snatches of in moments like his goal against Bologna) departed as a forward who had that great habit of getting shots in good spots.

Pulisic averaged around six take-ons per 90 minutes in the 2020-21 Premier League season, was attempting just 2.3 in his first three Serie A games, his passes in the attacking third just 10.5 from 16 and touches across the pitch going from 57.4 to 44.3. That is no great problem if he is still translating less involvement into comparable shot output. Pulisic profiles as a potential poacher in this Milan side, the sort who will lurk on the shoulder of defenders and use his movement to manufacture shots like this one against Roma, where he bends his run shrewdly to meet Theo Hernandez's cross.
If he's delivering these sorts of high value chances and banging in the sort of stunning goal he netted on debut then Pulisic may well prove to be an X-factor in a tricky group for the Rossoneri. 
3. Antoine Griezmann, Atletico Madrid
When club football took its World Cup enforced pause last season, it seemed natural to wonder if we would see Atletico Madrid back at the top table of European football in 2023-24. After years of scrabbling their way into the knockout stages, where they might infuriate a big team or two but never look like potential winners, they had crashed out of Europe altogether, finishing bottom of a group with no particular leading lights in it and sat fifth in La Liga. Diego Simeone's men looked old, slow and stale: a club long overdue a reset.
You could have said the same thing about Antoine Griezmann too. When he departed for Qatar he did so as a shadow of the player who had set world football alight in his first spell in Madrid. He returned, though, as one of the best players in the tournament and he has not looked back since. In the season and a half between rejoining Atletico (initially on a loan from Barcelona whose clauses prompted all sorts of minutes based shenanigans from Simeone), the France international delivered eight goals and seven assists in 2740 minutes. In 400 fewer since he has 11 goals and 13 assists.
This may be a hot streak but Griezmann's form is not necessarily unsustainable. His xG+xA pre-World Cup was 0.42 per 90, since then it has risen to 0.66. He is creating more chances, taking more shots and beating more defenders. Blink and you might convince yourself he is 24 all over again.
With Griezmann's revival has come Atletico's. Since the World Cup they have been beaten by just two teams: Barcelona and Elche. Their 7-0 thrashing of Rayo Vallecano before the international break was Atleti's biggest ever away win, one where their No.7 delivered not only a goal but a quite excellent all-around display. At 3-0 up Griezmann was still hurtling back to cover gaps in the defensive line, still chasing the ball right the way back to the goalkeeper. He and Atletico seem to have got their mojo back. Since the World Cup their non-penalty xG difference is right up there with Barcelona, some distance clear of Real Madrid. They are doing classically Atletico things: not taking an overwhelming number of shots but mostly good ones and keeping their opponents numbers supressed.
Does it last for Atletico? Well, right on queue with the group stage looming they contrived to lose 3-0 at Valencia on Saturday. And this group stage is certainly not one tailor made for a team who relish their underdog status, none of Celtic, Feyenoord and Lazio will consider themselves favorites against Los Rojiblancos and at the Metropolitano in particular they will be challenged to break down their opposition. Still, if Griezmann's form is indeed real then that might be an altogether easier task than it was a year ago.
4. Jude Bellingham, Real Madrid
Across the Spanish capital, there is a very different player defying Father Time. Bellingham simply should not be performing this well at such a young age with the brightest of lights on him. Sunday was his first match hold scoreless in a Real Madrid shirt. Each of his first four matches brought with them a goal, notably back-to-back late winners against Celta Vigo and Getafe. The Santiago Bernabeu, reopened for the latter of those games, already echoes to the cries of Hey Jude. The chest out, arms aloft celebration already seems destined to be replicated in playgrounds from Stourbridge to Segovia.
Already Carlo Ancelotti has placed Bellingham at the heart of his plans, the tip of a midfield diamond that requires the No.5 to push upfield when Rodrygo (No.11) and to a lesser extent Joselu (No.14) drift wide. When Madrid needed a goal against Getafe every midfielder exited the pitch except Bellingham, who repaid his manager's trust in style. The 20-year-old seems to relish the big moments for club and country, just look at his wonderful performance during the international break where he notched a goal and an assist for England in a 3-1 win when they resumed football's oldest rivalry with Scotland during the international break. Already the comparisons with Bryan Robson, Paul Gascoigne and Zinedine Zidane are emerging. Somehow, they don't seem overblown. Bellingham is just that good.
Certainly he does not look like being fazed by the attention. By rights he should be broken by the demands that comes with holding the hopes of Europe's most demanding fanbases at club and international level. Instead, he seems to relish them. "I want to try and win everything really, with Madrid, and with England," he said after that Scotland match, "to have a year when I attack all competitions and try to end the season with a lot of trophies."
If he is indeed the player he seems to be, one that lives for the biggest moments, then this could be a spectacular Champions League campaign indeed for Bellingham.
5.
Karim Konate

,

Red Bull Salzburg

Reader, I'm going to let you in on a secret here, one to impress your friends at the Champions League-themed dinner parties you will doubtless be attending in the future. Should the topic turn to the next breakout star you may yet find yourself in a pickle and nobody wants to be made foolish when their Mykhailo Mudryk pick backfires. If you find yourself in this quandary, might I offer a word of advice? Just pick the latest young striker in the Red Bull Salzburg team.

Certainly it's a tactic that has served me well even before joining CBS. Between Erling Haaland, Karim Adeyemi and now Benjamin Sesko it appears that the best way to establish yourself as one of Europe's striking sensations is to don the white and red of the Austrian champions. And so we turn to Karim Konate, the 19 year old Ivorian who has already delivered seven goals and two assists in 754 minutes since arriving in Austria from ASEC Mimosas, one of the great talent factories of African football.

These are extremely early days for Konate but in what few clips are available of him he showcases a tantalising mix of qualities, a player who finds space in the box but can accelerate into it on the counter, his magnificent clipped finish in a 3-0 win over WSG Tirol suggesting real composure for such a young player. That game saw him deliver two of the six goals he has through his first seven games of the season, and while it is hard to be sure how any play will translate Austrian Bundesliga form to the Champions League, the evidence of his predecessors suggests that Salzburg have a good eye for a forward who can make a major impact on the European stage.