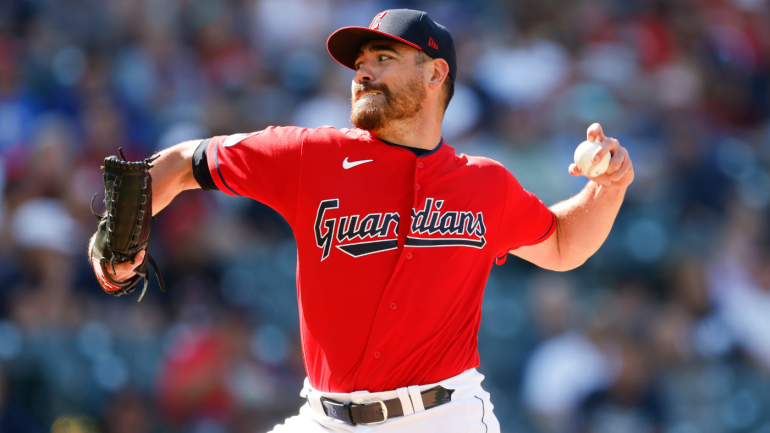 Getty Images
Left-hander Matt Moore is again on the move. The Miami Marlins claimed the southpaw off waivers from the Cleveland Guardians on Tuesday, reports ESPN. The Guardians claimed Moore from the Los Angeles Angels late last month, after the Angels put nearly all their rental players on waivers in an effort to shed salary.
The postseason roster eligibility deadline was 11:59 p.m. ET on Aug. 31. Because Moore joined the Marlins after that deadline, he will not be eligible for the postseason should Miami make it, though he can help get the team there these last two weeks. Miami enters play Tuesday a half-game behind the third wild-card spot in a hotly contested race.

Moore, 34, appeared in only five games with Cleveland and allowed two runs in 4 2/3 innings. Although he's a lefty, Moore has been especially tough on righties this year, so he's more than a matchup guy. The Marlins have had bullpen trouble lately — deadline pickup David Robertson has allowed 15 runs in 16 2/3 innings with Miami — and Moore gives them another veteran arm down the stretch.
For the Guardians, putting Moore on waivers is nothing more than a salary dump. He is owed approximately $525,000 the rest of the season, which is a drop in the bucket for an MLB franchise, but is a lot of real dollars. Cleveland unloads some salary and also opens a roster spot for a younger player as they play out the string.
The Marlins are 78-73 and part of a five-team wild-card race with the Arizona Diamondbacks, Chicago Cubs, Cincinnati Reds, and San Francisco Giants. Those five clubs are separated by only 2.5 games in the standings and there are only two wild-card spots available. Two of those teams will go to the postseason, three will go home.
The waiver order is the reverse order of the standings, so the only contender to pass on Moore is the Giants. The Marlins had waiver priority over every other team in the race.