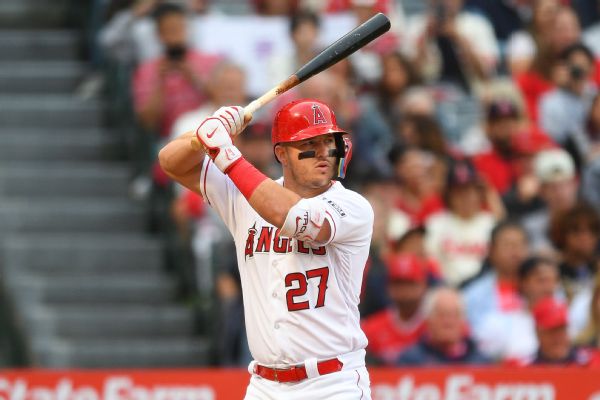 Injured Los Angeles Angels star Mike Trout has accompanied the team on its last road trip of the season and took dry swings before Tuesday night's 6-2 loss at the Tampa Bay Rays.
The three-time American League MVP has played just one game since fracturing the hamate bone in his left hand on July 3. The center fielder returned Aug. 22 but was shut down the next day because of discomfort.
"He's progressing," Angels manager Phil Nevin said. "He took some dry swings today and he feels good. So, it's just kind of a day-to-day thing. He wanted to come on this trip and start that progression towards building up to swings."
Nevin said it is hard to say what Trout's schedule will be.
"Where that puts us, I couldn't answer that," Nevin said. "It's all on how he's going to feel over the next few days and the next week."
Trout is hitting .263 with 18 homers and 44 RBIs in 82 games this season.
"I think right now for his peace of mind he wants to build up and get in some swings, and see how it goes," Nevin said. "Obviously, you've got to see live pitching. It's a progression here. It's been 12, 13 weeks now. There's build-up to this, and he's just starting to swing today, really."
Los Angeles left fielder Randal Grichuk left Tuesday night's game with two outs in the ninth after being hit by a high pitch from Shawn Armstrong.
Nevin said the pitch got Grichuk "pretty square" on the helmet extension that protects the face.
"He seems to be checking out fine," Nevin said.
Left-hander Reid Detmers, who missed his scheduled start Sunday because of illness, will take the mound Wednesday night against the Rays.
Outfielder Jo Adell was reinstated from the 60-day injured list after missing 59 games and started in right field, going 1-for-4. Infielder Kyren Paris went on the 60-day IL with a left thumb ligament tear.
Mike Moustakas, placed on the 10-day IL retroactive to Sept. 14 with a left forearm strain, took swings and will increase his on-field work over the next couple days. Nevin said he thinks the first baseman will be able to play again before the season ends.
Angels right-hander Chase Silseth allowed two runs over one-third of an inning Sunday for Triple-A Salt Lake in his first outing since getting a concussion on an errant throw during a game Aug. 26 against the New York Mets.
"He felt healthy," Nevin said. "His head was clear, which is what we were looking for the most. The positive side is he felt really good coming out of it."
Third baseman Gio Urshela, out for the year with a left pelvis fracture that occurred in mid-June, is running on a treadmill and during limited drills on the field.
"When this happened, truth be told, there was some question it could be a career-affecting thing," Nevin said. "I think we've gotten to the point where that's not the case as his build-up has gone."
The Associated Press contributed to this report.