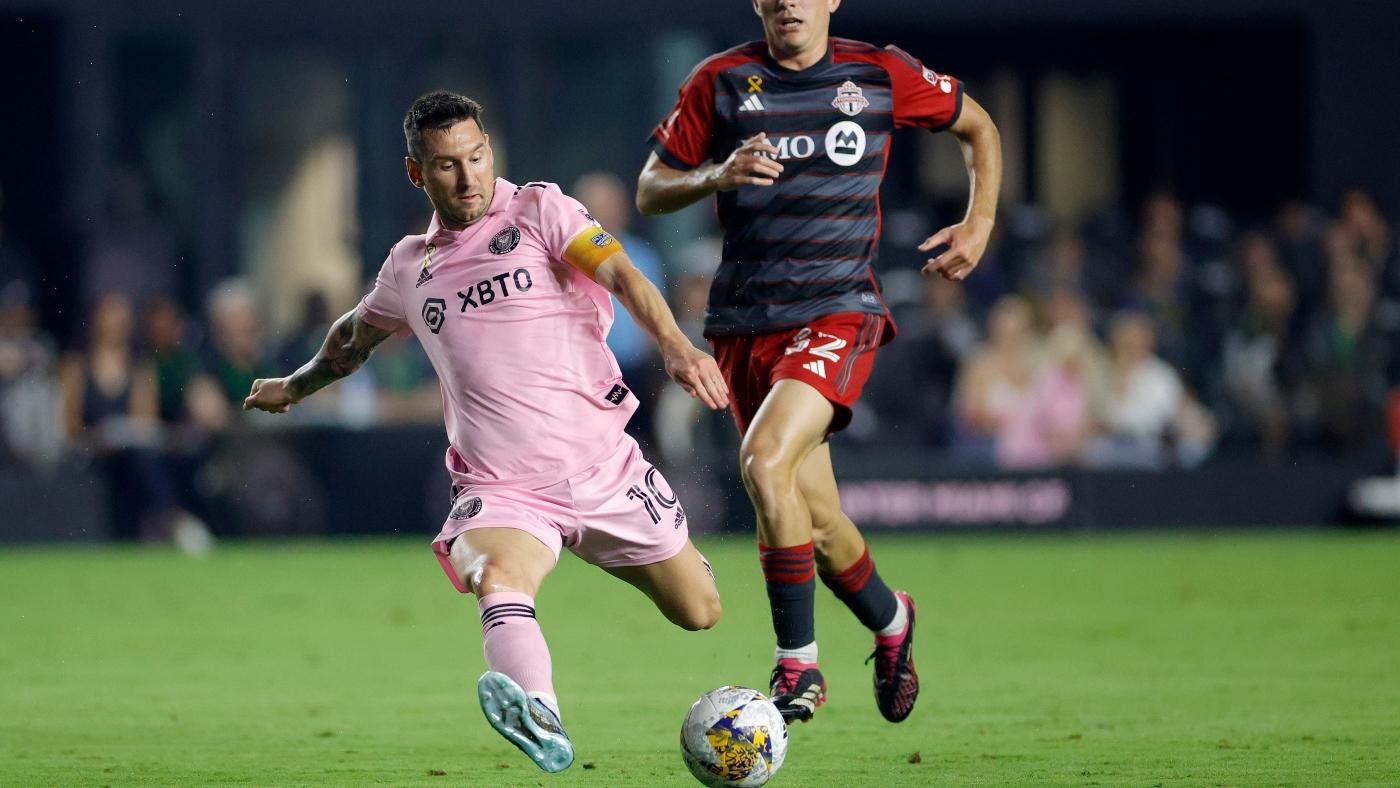 Before halftime against Toronto FC Wednesday, Inter Miami's Lionel Messi and Jordi Alba were withdrawn in a strange turn of events after manager Tata Martino stated that they were battling fatigue heading into the match. Alba was replaced by Noah Allen in the 35th minute and then Messi was substituted by Robert Taylor in the 37th minute in what seemed like a planned switch in a 4-0 win. It turns out it wasn't. Neither player went to the locker room for treatment and appeared fine on the bench but Martino said afterwards that Messi is dealing with fatigue while saying he has an "injury scar."
"They trained normally and we felt like they were ready to play," Martino said following the match, according to The Athletic. "I don't believe it's anything new or anything worse than what they have. It's fatigue. I don't think it's a muscular injury."
"He had an old injury that had been bothering him," Martino added, per the AP. "In this case, that he had with the national team."
Already ruling the duo out of Miami's rivalry match Sunday against Orlando City SC, it appears that he is protecting Messi and Alba while prioritizing the U.S. Open Cup final on Sept. 27, which will be broadcast live on CBS Sports Network and Paramount+. It's the biggest match in club history when they meet the Houston Dynamo, allowing them to win a trophy even more coveted than the Leagues Cup, which they claimed this summer soon after Messis' arrival. 
Though Martino appeared far from concerned, he wasn't committing to them appearing in the final, though it's difficult to see how they don't play if they are remotely fit. 
"I know we have a final to play but they won't go near the pitch if they can't play," Martino said, giving Messi and Alba even more rest. Messi did not play in Saturday's loss at Atlanta United, not even traveling with the team. 
Prior to the match, he mentioned the need to protect his stars, but then he decided to play them against the bottom team in the Eastern Conference. With the Herons looking sluggish out of the gate, they managed to score plenty in a 4-0 win, pulling them even closer to ninth place in the Eastern Conference and a playoff spot, thanks to a brace from Robert Taylor.
Why are the duo fatigued?
After not having a true offseason due to coming straight from a grueling European season into Leagues Cup play, Miami had to thrust their stars right into the lineup. They responded by leading the Herons to their first trophy in club history but played soccer games every three to four days while also traveling across the country. MLS domestically has travel demands like no other league due to the size of the United States, and during Leagues Cup, Miami couldn't even plan for who their opposition would be since it was determined based on who won their matches.
Martino didn't have a choice but to play them as much as possible in a knockout tournament with so much at stake, but Leagues Cup caused two MLS matches to be rescheduled, only adding more games to Miami's schedule. However, that wasn't the only challenge, as the Open Cup also gave Miami another thing to consider while trying to make up ground in the playoff race.
Messi, of course, dealt with international duty with Argentina this month as well, flying to Buenos Aires and back, missing the second game against Bolivia with this light injury when national team boss Lionel Scaloni said Messi "felt something."
Priorities are key
Under Martino and with Messi, Miami have already won the first trophy in club history, and they are now only one victory away from their second trophy after being one of the worst-performing teams in MLS since joining as an expansion side. Even with rotating and saving Messi for the final, the Herons were still able to gain ground in the playoff race. So, if Martino can be doubted for anything on Wednesday night, it's the fact that he started Messi instead of bringing him off the bench.
If the introductions were done in the opposite direction, with Messi and Alba getting 30 minutes off the bench, questions wouldn't have been asked. One thing that's interesting is that while Messi and Alba are struggling with fatigue, Sergio Busquets has featured in every match that he has been available for, coming off the bench twice and starting 11 times in midfield. It's an impressive tally for the 35-year-old, but at some point, he'll likely need to be rotated too.
Martino now has the unenviable task of navigating the next week, winning two matches, and keeping everyone fit. But if any manager can solve this puzzle, it's him, with so much on the line the rest of the way.