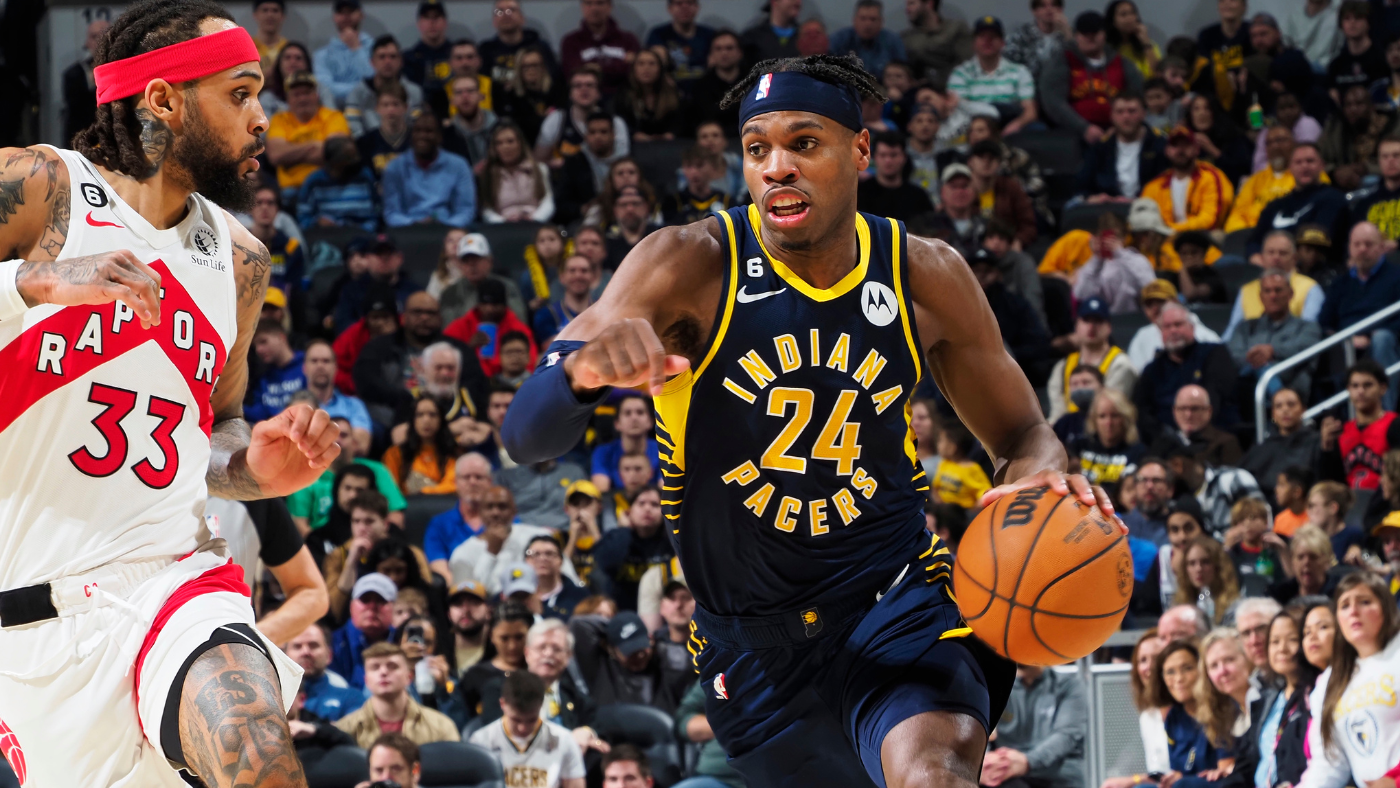 The news that the Indiana Pacers are looking into trades for Buddy Hield isn't especially surprising. The Pacers have three ascending guards in Tyrese Haliburton, Bennedict Mathurin and Andrew Nembhard that all need more minutes and more shots. They just signed Bruce Brown to a hefty contract in free agency, and T.J. McConnell is still around for backcourt depth as well. Hield can help the Pacers, but he's not exactly a necessity in Indiana.
The ironic component of this news is the timing. Buddy Hield has lost his safety school. Hield has been linked to the Los Angeles Lakers for two years. Such a deal made plenty of sense. The Lakers have been among the NBA's worst shooting teams for practically the entire LeBron James era. Hield has never played with a shot-creator of James' caliber and likely would have thrived alongside him. 
The Kings almost traded Hield to the Lakers in 2021, but the Lakers chose Russell Westbrook at the last second. The Pacers almost traded Hield to the Lakers in 2022, but asked for too much in a package deal with Myles Turner. Now it's 2023, and right when Hield appears to be at his most gettable, the Lakers are probably off of the table. They simply lack the tradable salary to make a real run at Hield now. Perhaps that could change mid-season when D'Angelo Russell becomes trade-eligible, but for now, the obvious Hield destination is off of the table.
So who does make sense for Hield if he is dealt before the start of the season? Here are three possibilites.
The Raptors ranked 25th in the NBA in half-court offense last season… and they just replaced Fred VanVleet, a former All-Star and among the better shooting point guards in the NBA, with Dennis Schroder, a mid-level addition who is rarely guarded from deep. Aside from the active tankers, the Raptors might have the NBA's worst half-court offense next season. Any shooting improvement would go a long way. So how about a swap for Gary Trent Jr., who just opted into the final year of his deal?
Trent is no slouch from deep either, but after shooting over 40% from deep as a Portland Trail Blazers, he's fallen to 37.4% in Toronto. Hield is a more reliable marksman, but Trent is better at just about everything else. That suits an Indiana team with plenty of shooting already just fine. Their guard glut would remain, but Rick Carlisle loves stacking lineups with ball-handlers and would likely have no trouble finding use for Trent. Both Hield and Trent are on expiring deals, so this deal would essentially allow the Raptors and Pacers to give the other team's shooting guard a one-year audition before deciding on a possible extension.
And if Hield doesn't work out in Toronto? Lottery pick Gradey Dick, a sharpshooter in his own right, is waiting in the wings to replace him. The Raptors probably shouldn't rely on a rookie if they hope to win this season, so Hield could be an effective stopgap.
Kevin Porter Jr. is facing domestic violence allegations at the moment, and as a result, the Rockets are looking for a trade. No team is actually going to trade for Porter expecting to play him. Even before these allegations, he came with a lengthy track record of off-court issues. However, the unique nature of his contract makes him viable salary filler in a deal like this. Porter's deal is nominally four years long, but he can be waived after this season with only $1 million guaranteed. That figure jumps to $3 million on opening night, $6 million in February and his full 2024-25 salary in June, so Houston is incentivized to come up with a trade quickly if it does not plan to cut him. They're reportedly even willing to attach draft capital to do so.
That makes a trade relatively simple here. Houston would send Porter, whom Indiana would immediately waive, to the Pacers along with a draft pick or two for Hield. He couldn't take on Porter's ball-handling duties, but in truth, the Rockets shouldn't want him to. Aside from VanVleet, Jalen Green and No. 4 overall pick Amen Thompson, Houston already has a center that desperately needs more usage in Alperen Sengun. What they need after ranking dead last in the NBA in 3-point percentage last season is some more shooting. Hield can certainly add that.
It's worth remembering here that Houston's next three first-round picks are owed to Oklahoma City. The Rockets have no incentive to keep losing, and reports have suggested that ownership is already getting impatient. Hield would have represented an upgrade over Porter even before his off-court circumstances made a trade inevitable. Now? This is probably the best Houston can hope to do for Porter.
Oh, how things changed. The Nets had one of the greatest collections of shooters in NBA history last season. Well, Kevin Durant is gone. So is Kyrie Irving. And Joe Harris. And Seth Curry. And Patty Mills. But do you know who's still around and very much needs shooters around him? Ben Simmons. Mikal Bridges and Cam Johnson provide their fair share, but if Brooklyn hopes to survive offensively with Simmons and Nic Claxton on the floor together, it simply needs more shooting to properly space the floor.
Brooklyn fortunately has a trade exception just shy of $20 million from trading Harris to Detroit. That exception could absorb Hield's $19.2 million deal. The Nets, who are extremely deep on the wings, could then send Royce O'Neale to the wing-needy Pacers. This deal would leave the Nets roughly $2 million above the luxury tax, which owner Joe Tsai likely does not want to pay after years above the line. That is the likeliest deal-killer here, but that figure is small enough that Brooklyn could find any number of ways to duck back under the line during the season.
Brooklyn could likely ask for a little bit of draft compensation in this deal. Even if the two players have identical value, the $10 million or so in cash the Nets would be saving the Pacers does matter here. That's not worth a first-round pick, but it might be able to net a second-rounder or two. In basketball terms, this trade that makes sense for both sides.