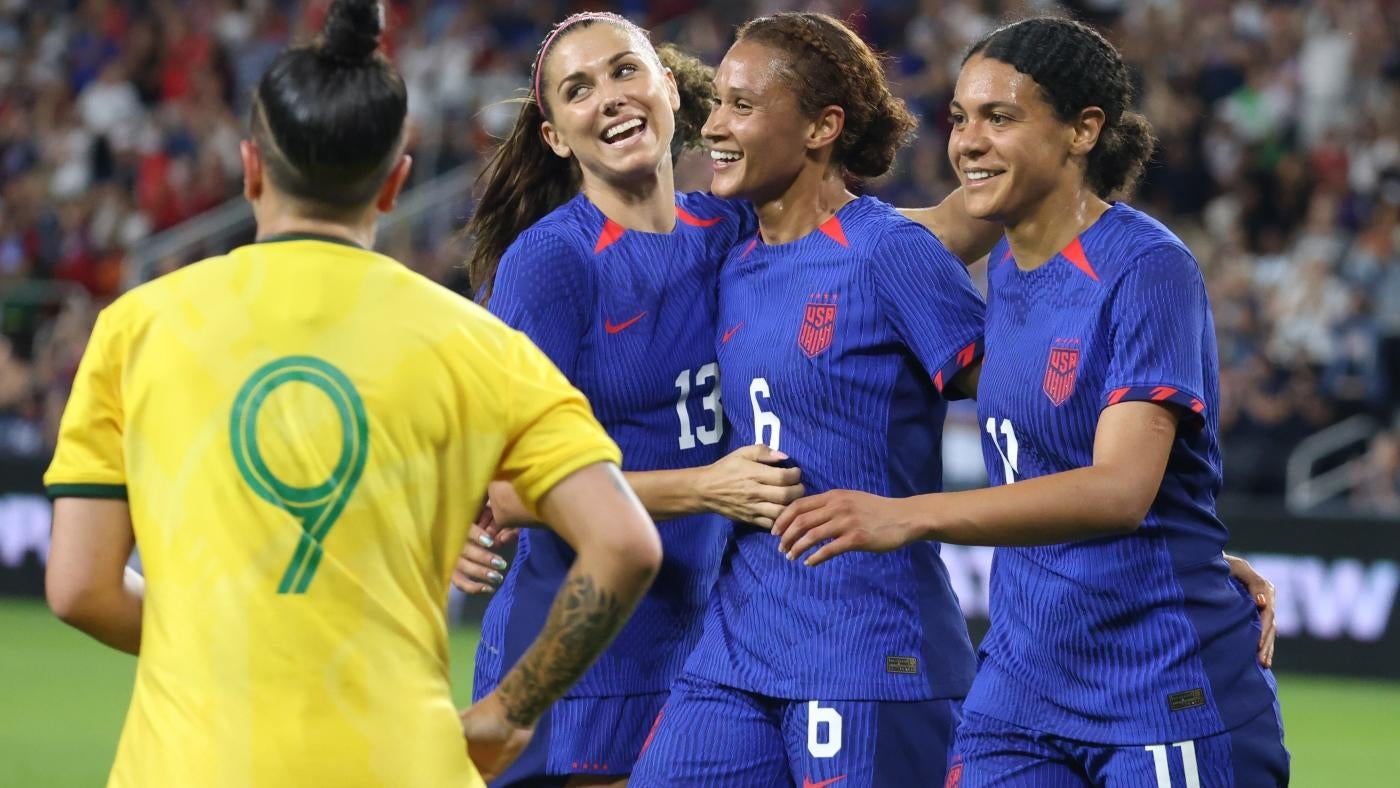 The U.S. women's national team returned to action for the first time since the Women's World Cup and were in fine form as they picked up a 3-0 win over South Africa on Thursday in Cincinnati.
The match served as a farewell to Julie Ertz, the longtime defensive player who started and played 35 minutes in the final match of her storied career. The old guard was present for her swan song, which also marked the first game for interim head coach Twila Kilogre as the USWNT look ahead to the Olympic Games in Paris in 10 months. There was still room for a debut for defender M.A. Vignola, as well as some minutes for those who did not make it to the World Cup roster.
The USWNT used the opportunity to prove that while all eyes are on the future, the current crop still has plenty of quality against a South Africa team that is well and truly on the rise. It allowed the four-time World Cup winners to put on a vintage performance that was sorely missing over the summer.
Please check the opt-in box to acknowledge that you would like to subscribe.
Thanks for signing up!

Keep an eye on your inbox.

Sorry!

There was an error processing your subscription.

Here are a few takeaways from Thursday's performance.
Kilgore's first lineup wasn't forward-looking
Interim head coach Twila Kilgore took charge of her first match with a group of familiar faces, reflected in a lineup that was made up exclusively of players who participated in this year's World Cup. It was not as forward-looking a lineup as some may have wanted with the Olympics in Paris just 10 months away, but the team got the job done in a way that felt familiar.
The performance was unspectacular at times — South Africa outshot the USWNT by the half-hour mark of a 0-0 game, and Thembi Kgatlana was the standout of the match at that point. A flurry of goals before halftime altered the course of the match and was probably part of the reason why the team took their foot off the gas for the second half. The inconsistency is par for the course for the USWNT after their shaky World Cup performances and early exit, but the goalscoring woes they experienced Down Under were not a problem in Cincinnati.
The first-half performance could serve as a vote of confidence in some veteran talent like Williams, who was unable to impress at her first World Cup after receiving limited game time but could be a solid contributor in Paris considering her form. It also is a reminder that Rodman might have plenty of experience come the Olympics, but she is also very much the future of the USWNT.
Kilgore's choices are also a reminder that she does not consider it her role to rock the boat by introducing a new look USWNT despite the rapidly approaching Olympics. The big decisions are someone else's to make, so it may be more apt to view her interim tenure as a send-off to more than just Ertz and eventually Megan Rapinoe — it could be a last run for the old era of the USWNT.
Success on set pieces
The USWNT's trademark goalscoring returned on Thursday, and so did their penchant for set pieces. Both of Williams' goals came off of corners, where she strategically placed herself feet from the goal line to ensure she would have a good look at goal whenever the opportunity presented itself. That placement was crucial, especially on her second goal, when she got an awkward touch but still scored.
The set piece-focused strategy was obvious from the get-go, considering the early part of the match was dominated by Ertz. She and her teammates seemed determined to send Ertz into retirement with one final goal, especially on set pieces — a large chunk of her 20 international goals came off those chances. She was hanging around the near post at times to score and on the corner that led to Williams' first goal, Ertz was the initial target.
It was not meant to be for Ertz, but the fact that set pieces were crucial to the USWNT's success feels like a fitting tribute to the player.
Vignola debuts
Though Kilgore mostly opted to play familiar faces, one player was able to make her debut on Thursday — Angel City's M.A. Vignola. She came on at halftime in her hometown for Crystal Dunn and was bright at times during her first game for the national team.
Vignola was active on the wing, which was an area of strength for the USWNT throughout the match and got involved in the attack. She also helped regain possession near goal as South Africa looked to re-jig their attack. Overall, Vignola slotted in well as the hosts stifled their opponents and took advantage of an opportunity that came quickly. She was named to the squad as a replacement for the injured Kelley O'Hara and could be a player to keep an eye on for club and country — her NWSL side are mounting an impressive case for their first-ever playoff berth, and she has excelled along the way.
It will be worth following if forwards Jaedyn Shaw and Mia Fishel follow in Vignola's footsteps on Sunday and also earn their debuts with the countdown to Paris officially underway.