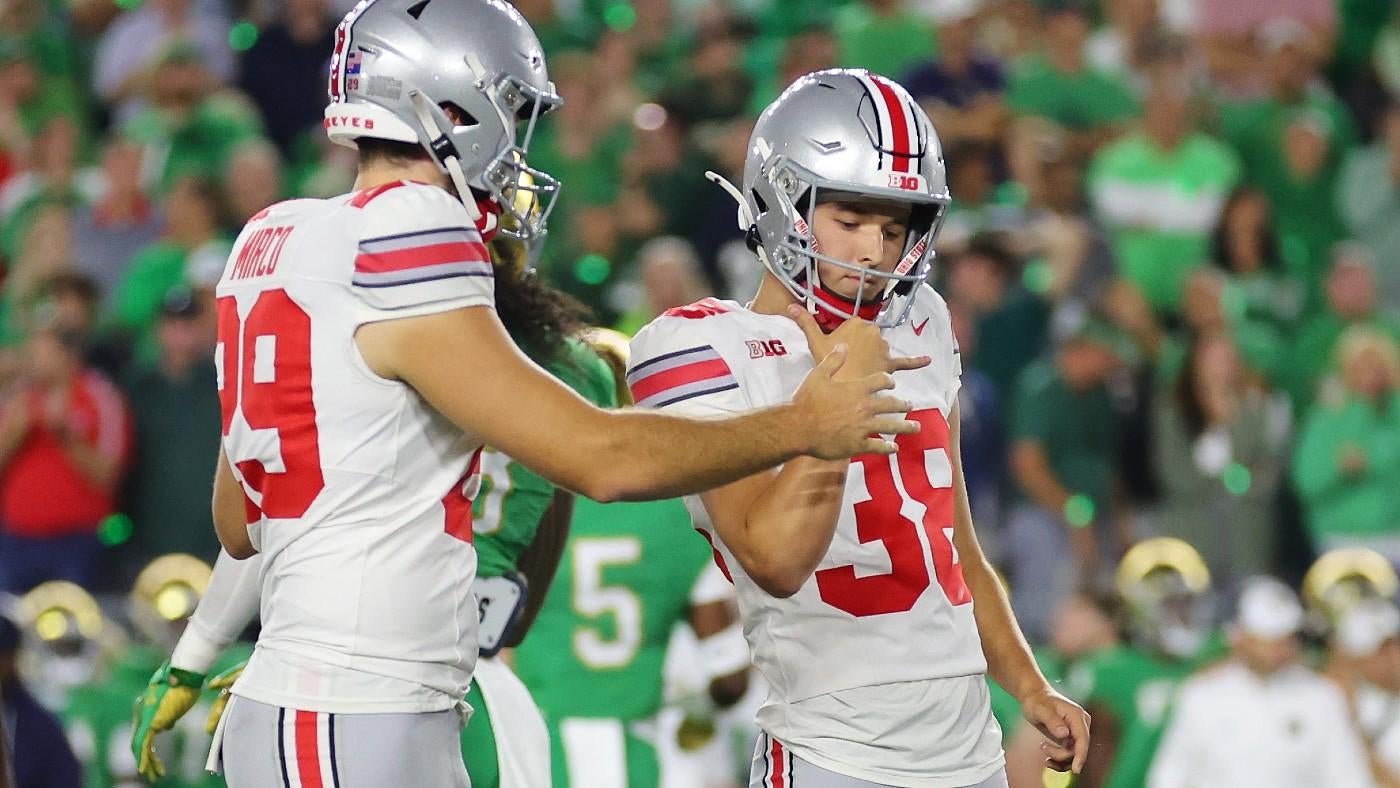 There has been a shake up in the top five of the new college football rankings after a wild Week 4 that featured six games between teams in the AP Top 25 poll. No result was more notable than Ohio State going into South Bend and getting a last-second victory against Notre Dame, and the AP voters have responded by moving the Buckeyes up two spots to No. 4. 
Georgia remains No. 1 followed by Michigan at No. 2 and Texas at No. 3, with the Bulldogs collecting 55 first-place votes. But the debate for No. 1 has started to pick up with the AP voters as six of the top seven teams in the rankings all received at least one first-place vote. Florida State has the second-most first-place votes with three, but the Seminoles actually fell one spot in the shake up caused by Ohio State's jump. 
Notre Dame, as a result of its loss, fell two spots and out of the top 10 to No. 11. 
Though they did not receive any first-place votes this week, Oregon clearly got the attention of the AP voters with its 42-6 win against Colorado. The Ducks moved up No. 9, just one spot behind USC, which was punished for a closer-than-expected win against Arizona State with a three-spot drop. And while Deion Sanders' Buffaloes still appeared on a number of ballots after the loss, Colorado dropped out of the top 25 and checked in at No. 28 in voting points. 
Joining Colorado in dropping from the AP Top 25 poll after Week 4 was UCLA and Iowa. All three teams lost to opponents that were ranked higher going into the weekend, but with several other undefeated or one-loss teams to consider, the voters responded by moving teams that won in Week 4 ahead on their ballots. Missouri, Kansas and Fresno State all got those honors of moving into the rankings, with each boasting a 4-0 record after wins on Saturday.  
Here is a full look at the AP Top 25 after Week 4, with first-place votes listed in parentheses. 
AP Top 25 poll
Georgia (55)
Michigan (1)
Texas (2)
Ohio State (1)
Florida State (3)
Penn State
Washington (1)
USC
Oregon
Utah
Notre Dame
Alabama 
LSU
Oklahoma
North Carolina
Washington State
Duke
Miami
Oregon State
Ole Miss
Tennessee 
Florida
Missouri 
Kansas 
Fresno State 
Others receiving votes: Kansas St. 57, Kentucky 41, Colorado 32, Louisville 32, UCLA 28, Maryland 20, TCU 17, Tulane 11, Syracuse 8, Wisconsin 6, Air Force 6, Clemson 5, Texas A&M 5.