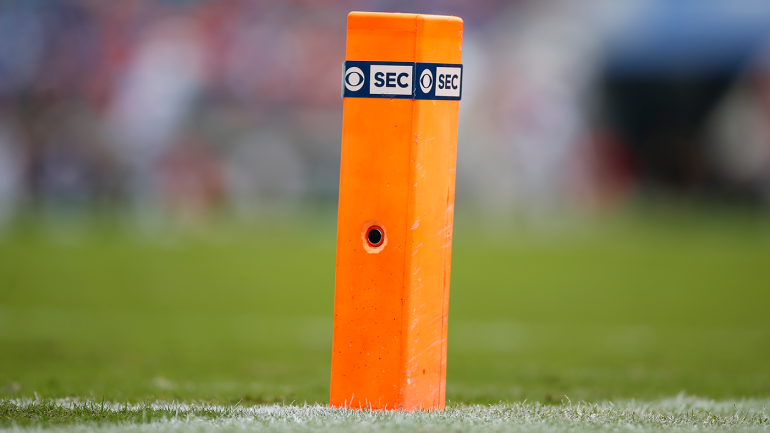 Getty Images
With the 2023 college football season in full swing, the SEC on CBS schedule will continue to be updated throughout the campaign as the network makes selections based on how well teams are playing and which matchups become the most interesting. As the season progresses, we will update the entire SEC on CBS slate with kickoff times and television information with each forthcoming announcement. 
Each game will be featured on CBS and streamed on Paramount+ this fall.
The 2023 SEC on CBS game of the week schedule began on Sept. 16 when two-time reigning national champion No. 1 Georgia battled back for a 24-14 win over South Carolina at Sanford Stadium. The Bulldogs are looking to three-peat in the College Football Playoff and will certainly be featured on CBS plenty throughout the season.
In fact, the first game of the season to be announced after the initial release of the SEC on CBS schedule also involves the Bulldogs. On Sept. 30, Georgia will visit Auburn as The Deep South's Oldest Rivalry takes center stage at 3:30 p.m. ET on CBS. also announced is Alabama visiting Texas A&M the next week on Oct. 7. 
CBS will have doubleheaders on Oct. 14 (noon and 3:30 p.m.) and Nov. 4 (3:30 p.m. and 7:45 p.m.). The Florida-Georgia rivalry will be broadcast on CBS (as is tradition) on Oct. 28 live from Jacksonville, Florida. Later in the year, the network will carry Missouri-Arkansas on Black Friday (Nov. 24) at 4 p.m.. CBS will also bring you the big one — the SEC Championship Game — on Dec. 2 at 4 p.m. from Mercedes-Benz Stadium in Atlanta. 
In addition to the SEC on CBS schedule, the network will also air the Army-Navy Game on Dec. 9 at 3 p.m., as well as the Tony The Tiger Sun Bowl on Dec. 29 at 2 p.m.
Among the options for the Oct. 14 doubleheader in Week 7 are Arkansas at Alabama, Auburn at LSU, Florida at South Carolina and Texas A&M at Tennessee. Oct. 21 will start with Air Force at Navy at noon before the SEC Game of the Week. CBS viewers will be treated to a prime time doubleheader on Nov. 4 with Week 11 options including LSU at Alabama, Arkansas at Florida and Texas A&M at Ole Miss.
Those selections, and the rest of the yet-to-be-determined matchups in the schedule below, will be announced six to 12 days in advance of the games
2023 SEC on CBS schedule
Sept. 16

3:30 p.m

South Carolina at Georgia

Sept. 23

3:30 p.m.

Ole Miss at Alabama

Sept. 30

3:30 p.m.

Georgia at Auburn

Oct. 7

3:30 p.m.

Alabama at Texas A&M

Oct. 14

Noon
3:30 p.m.

SEC on CBS
SEC on CBS Game of the Week

Oct. 21

Noon
3:30 p.m.

Air Force at Navy
SEC on CBS Game of the Week

Oct. 28

3:30 p.m.

Georgia vs. Florida (Jacksonville)

Nov. 4

3:30 p.m.
7:45 p.m.

SEC on CBS
SEC on CBS Game of the Week

Nov. 11

3:30 p.m.

SEC on CBS Game of the Week

Nov. 18

3:30 p.m.

SEC on CBS Game of the Week

Nov. 24

4 p.m.

Missouri at Arkansas

Nov. 25
3:30 p.m.
SEC on CBS Game of the Week
Dec. 2
4 p.m.
SEC Championship Game
Dec. 9
3 p.m.
Army vs. Navy
Dec. 29
2 p.m.
Tony the Tiger Sun Bowl