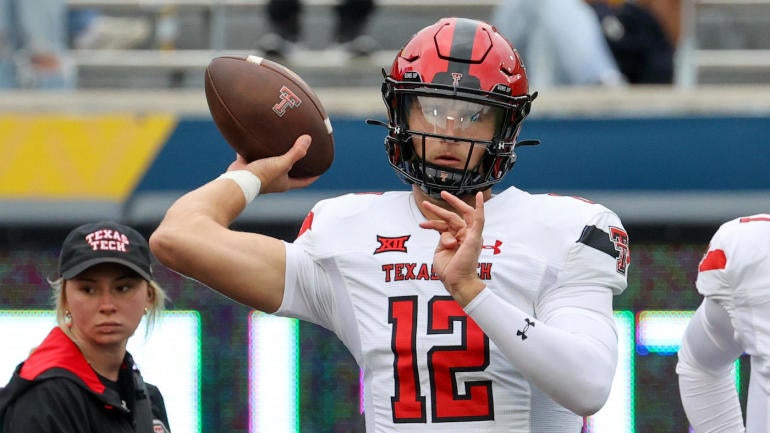 Getty Images
Texas Tech starting quarterback Tyler Shough suffered a fractured fibula during the Red Raiders' 20-13 road loss to West Virginia and will undergo surgery Tuesday, Texas Tech coach Joey McGuire confirmed Monday. Shough is expected to miss 6-8 weeks, a timeline that puts him in jeopardy of missing the remainder of the 2023 regular season.
Shough, who is in sixth season at the collegiate level, was carted from the field in the first quarter while wearing an air cast. He was replaced by Behren Morton, who finished 13 for 37 passing for 158 yards and a touchdown as the Red Raiders fell to 1-3 on the season. Morton, a redshirt sophomore, will start in Week 5 against Houston despite a minor shoulder ailment which he suffered in the loss to the Mountaineers, according to McGuire. 
Shough's injury is the latest in a string of ailments in his time at Texas Tech. Collarbone injuries in each of the past two years have derailed his hopes of a full season. Shough suffered a broken collarbone against Texas in Week 4 of the 2021 campaign that forced him to miss the remainder of the season. He then suffered another collarbone injury in the first game of the 2022 campaign that kept him out until the back half of the season, with Morton starting several games in his place. 
Between two years of playing time at Oregon — that after a redshirt year in 2018 — and three at Texas Tech, Shough has passed for 4,622 yards and 36 touchdowns against 17 interceptions. He was the Ducks' starter during the abbreviated COVID-19 season in 2020, which resulted in Oregon winning the Pac-12 championship and reaching the Fiesta Bowl. 
Entering the 2023 season, Shough was 8-1 as a starter at Texas Tech. The Red Raiders, however, lost their opening two games of the year — at Wyoming and at home against Oregon — before getting in the win column against Tarleton State in Week 3. The West Virginia loss means the Red Raiders are still seeking their first win against an FBS opponent this season. 
Saturday will be the first Big 12 matchup between Texas Tech and Houston, though the Red Raiders swept a home-and-home series that was played from 2021-22. The game will see Texas Tech go against quarterback Donovan Smith, who transferred from the Red Raiders in the offseason. It was Smith who scored the game-winning touchdown in overtime for Texas Tech against Houston last September.